Coolism Trunks
Discount per Quantity
₹540
Buy 2 @ Rs 999
Buy 3 @ Rs 1349
Buy 5 @ Rs 1999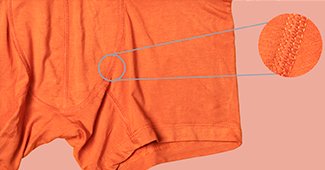 Flat Knit Seams
Stitch so flat on both sides, can stretch and does not feel on the skin.
Stays Cool
Feel icy cool even when the temperature outside soar.
Anti-Odour
Doesn't trap heat, perspiration or odour. Keeps your boys odour free.
All-day Comfort
Buttery soft and 50% more breathable than cotton.
YOUR FIT
Slim fit: Comfort-fitting through the butt and thighs.
CRAFTED FOR
The man who wants to feel limitless and liberated. Cut from feather light, highly breathable fabric, you will not want to wear any other pair.
AESTHETIC
Chose to dress up or dress down, it's what's on the inside that matters. The 3d construction and 4way stretch fabric complements every body type and fits you comfortably.
EQUIPPED WITH
Ballin Tech, Flat Out Seams, Anti-Roll Waistband.
Gentle Wash
Do Not Bleach
Do Not Tumble Dry
Iron Cool
Do Not Dry Clean
30 days Comfort guaranteeIf you don't love your first pair, it's on us.
Free delivery on orders above ₹700
Ships in 2-3 business days10.
Got a Question ?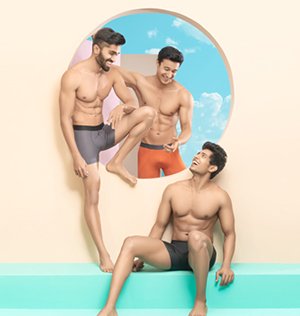 We're here to answer. If you don't see your query in our Frequently Asked Questions (FAQ) section, please drop your question.

CUSTOMER REVIEWS
Shaibaaz H
Superb product... i have tried many big brands but this one is something diffrent from all other so called brands and the response of hielabs team is too good and customer relation
Supratik S
The underwear is very soft and the fitting is just awsome. I'll like to buy more from HIE LABS. The first thing I like about the underwear is that you can't feel you wore anytjing, the softness amd the strechablity is very good.
Harpreet S
Thanks a ton to HIE labs for such a great design, it is one of the best underwear I have bought so far and the level of comfort is somewhat like it's not even there, please notify me through email when the black variant comes in stock.
ROHITH R
It's really nice and comfortable. 100%
Amaan K
This underwear from hielabs is something very unique . As the technology is booming so are hielabs underwears. This underwear breathes and are sweatfree. I do marathon running and most of the times i end up with rashes. This underwear is best and i am satisfied.
RAM B
Finally, a product thats worth the hype. Their pouch is cleverly designed and there is no way I am going back to my usual brand. Thanks HIE :)
Anto S
I am returning customer and I just enjoy wearing your product. It keeps me cool through out my day
Aaron B
Wow. Its tailored to fit perfectly. Shall certainly order some more soon!
ROMITH G
So soft on my skin. Never experienced any fabric like this. No itches or rashes.
Navinder S.
It feels like heaven to me so comfortable
Nikhil D.
I received my pair of Trunks today. The packaging comes with a card saying "The most comfortable underwear you will ever own! " And I have to agree to it. I am most surprised by the Ballroom Pouch feature. A small addition to design made such an amazing difference. It just adds to the comfort, support and confidence. The fabric choice is beyond commendable. I am all already a fan. Waiting for more colours and designs now. Keep up the amazing work!
VIVEK K.
I gotta tell, I just blindly ordered your underwear online and huff these are the best ones I have ever tried. I am a civil engineer and I need to be onsite and walk a lot in my job and buying this underwear has helped me to keep me cool and sweat free. No doubt I will be buying more from you guys. Keep it up!
CP R.
Excellent product, the fit is right, the fabric is amazing, keeps you real cool.
Kishore M.
I am writing this review after using these trunks for a week. Initially I was doubtful about trying a new brand. Yet, I decided to give it a try and it was worth it. It was very comfortable and the fit was great and kept my private assets in place. The fabric was soft and totally different from other regular underwear brands. It keeps me dry inside even while wearing my jeans. The packing was good and was delivered on time. Pros: Fabric, Fit ( ball room pouch), Keeps dry inside, Delivery on time. Cons: Colours. They could offer more colours and patterns.
Yogesh S
Tried this brand based on a recommendation from my friend and glad it done wonders. I used to run 8 to 10 km every day and I end up with abrasion around my groin area. After using Hie Labs product, I don't have to worry about skin abrasions any more and just focus on my running as the fabric is extremely soft and it's made out of very thin material. Please do try it out !!
Arjun M
I have used many brands before but HIE is the only brand that fits perfect on the body and its super soft and comfortable. Would highly recommend to anyone who is looking for a good pair. Keep it up.
Vignesh M
the underwear is so comfortable , & specially the material , good breathability and sweat free
| | |
| --- | --- |
| Color | Classic Navy, Graphite Grey, Royal Blue, Sunrise Orange, True Black |
| Size | S, M, L, XL, XXL |